Garden Decking
Still today, we are the only producers to coat our wood products with coatings, stains and finishes developed and produced in-house. Worldwide Osmo stands for quality from Germany.
The garden is more than just an outdoor area; it is part of the home. It is where to meet friends and family for barbecues and enjoyable evenings under the night sky. Nowhere else is it better to relax than on the garden deck – the outdoor living room. Osmo uses a wide variety of wood species, from softwoods like Pine and Larch to exotic species such as Cumaru and Ipe as well as classics like Bangkirai, to produce solid wood decking. Decking is also manufactured at Osmo from more durable wood types, like thermally modified timber and pressure impregnated Pine. Solid wood decking from Osmo comes in a wide selection of various textures, for example smooth planed, ribbed, grooved, brushed and scraped. Each texture has a very specific look and underfoot feeling. Osmo solid wood decking can also be, upon request, factory-finished in high quality wood coatings developed and produced in-house.
One of the fastest renewing raw materials worldwide is Bamboo, and it has been appreciated for its excellent properties as a building material in Asia for hundreds of years. In combination with high-tech polymers and additives, it becomes the UV-stable and hardwearing material, bamboo polymer composite (BPC). Osmo utilizes this polymer composite to produce Osmo Multi-Deck, a high quality extremely durable decking that comes in a variety of colours and surface textures. Osmo Multi-Deck can be sawn and installed just like regular timber decking. Unfortunately, Osmo timber decking and Osmo Multi-Deck are not available outside of Germany.
Our knowledge and experience from manufacturing timber and polymer composite decking follows into the development of coatings, stains as well as care products. The unique wax and oil combination found in Osmo wood coatings allows wood to retain its natural characteristics and to absorb and release moisture with its surroundings. Through the introduction of Osmo Decking-Oil, Osmo has developed a product that meets the needs of decking. It comes in various colours to match and suit the natural colour of the most common wood species used in decking, for example Bangkirai, Douglas Fir or Garapa. Worn surfaces initially treated with Osmo Decking-Oil can be recoated without any sanding needed and without any visible transitions. When timber decking gets wet from wind and weather, it exhibits a high risk for slips and falls. To provide added safety for whole family, Osmo has created a clear top coat for decking with special anti-slip particles. Osmo Anti-Slip Decking Oil is available in two slip resistance ratings, R9 and R11.
Without a pigmented coat on decking, sunlight breaks down the lignin in wood and rain then washes away the lignin. The result is a greyed, aged and unsightly timber deck. Osmo Wood Reviver Power-Gel restores the warm natural wood colour. Thanks to its non-drip formulation, the application is quite simple – brush the gel onto the surface, wait 20 minutes and rinse with water. After drying, the surface can be coated with Osmo Decking-Oil to preserve the restored wood colour.
Tips & tools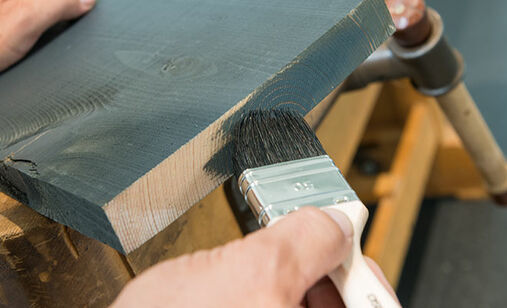 HOW MUCH COATING DO I NEED?
With our finish calculator, the right amount of coating necessary for your project can be calculated quickly and easily. Please follow our advice in the product information sheets for the correct application.